Kildavin / Clonegal GAA Club


Gaelic football was played in the parish before the turn on the 20th Century. A team was formed in Clonegal in 1888 and some of the Kildavin men joined this club. The first Kildavin team on record was a team of 21 players which represented Kildavin in 1894. In 1912 a game was arranged between Kildavin and Clonegal which Clonegal won by a single point. After this game the enthusiasm led to a meeting in Maria Doyle's (Kinsella's shop) in Kildavin. Further meetings were held in April 1914 and on 26th May 1914 the Junior Football Club was formed. Down the line they were offered a field by Michael Kavanagh of Ballyshancarragh. For a short period in 1918 Kildavin and Clonegal were united on the field but Kildavin decided to go it alone for 1919. In December 1919 Kildavin won their first championship. This was the first time a team from the east of the county had won it.
There were many ups and downs through the years with 1970 being a particularly memorable year. In this year they won the Senior Football Championship and the League while the Junior Hurlers also did the honours. This year also saw the opening of Spellman Park, Kildavin. The under 21's lost the final this year.
So many stories could be told and names that bring a sense of pride and admiration to the area are inscribed in the memory of Gaelic sports in Kildavin and Clonegal. Football and hurling, junior and senior, camogie and scor all hold their place of honour in Kildavin Clonegal Gaelic Athletic Association and Spellman Park, Kildavin.
For a truly remarkable detailed story of the GAA in the Kildavin Clonegal area you should read "Footprints to the Future" by Willie D. White
2009 saw the opening of the new Spellman Park Complex with facilities that any club in Ireland would be proud of. It is our fervent wish that these facilities and the memories of the past will inspire our teams to even greater achievements.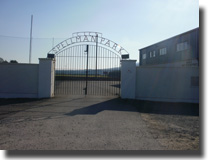 The Committee:
Chairperson: John Byrne 086 277 2633
Vice Chairperson: Dick Gibson
Secretary: Donal (Brud) Murphy 087 637 1379
Vice Sec: Raymond Treacy
Treasurer: Margaret Doyle
Juveniles
Chairperson: Raymond Treacy 087 761 0135
Secretary: Yvonne Dunne 087 249 0757
Treasurer: Alison Dunne

Website: www.kildavinclonegalgaa.ie
Email: secretary@kildavinclonegalgaa.ie