News for 18th September to 24th September 2017

If you have any news or upcoming events you would like included in this section please contact one of the addresses below:

Website: info@clonegalkildavin.ie
Secretary: secretary@clonegalkildavin.ie

Thank you

Clonegal Video
A video of Clonegal has been produced by Ellard Browne Limited directed by the late Hugh Browne and music is by Jason Culleton.



---

Masses for the coming week please click here
---

Lotto Results for 17th September 2017
Kildavin / Clonegal GAA, Ben Mulhall Park
Last Week's winning numbers:
09 - 15 - 20 - 25
Jackpot Result:
No winner
3 Match 3 Winners shared €150
Larry Kavanagh Lacabeg 09 - 13 - 15 - 25
Michael Brennan Kilcarry 09 - 15 - 19 - 25
Myra Nolan Raheengraney 02 - 09 - 20 - 25
Sellers Prize €50:
Michael Brennan
Current Jackpot:
€8,800
Next draw will be held in Dunne's, Clonegal
Sunday 1st October 2017
at 10.30pm
Tickets €2.00 each.
---
Memorial to honour the late William (Willie) White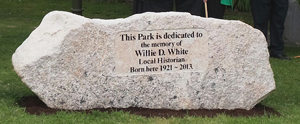 On a personal level, it was a proud and certainly an emotional day for members of the White and extended family. On
Saturday
evening,
12th August 2017
, a large crowd from near and far, gathered to celebrate the life of my late grandfather, William (Willie) White, not only for his talent as a writer and historian, but for his voluntary work and dedication to the village throughout his life. His community involvement included being PRO and Secretary for practically every organisation in the area, to name a few, Clonegal Development Association, Clonegal Village Fair Committee, Chairman of the 1798 bicentenary committee, and Chairman of the Clonegal Heritage Committee. If there was anything happening in Clonegal, Willie was sure to be involved. In his memory, a commemorative stone is dedicated to him, located on the soil, where he was born and reared, presently known as the Wicklow Way Park. Opening the ceremony, John McCabe, welcomed all present and invited Johnny Dunne, Chairman of the Clonegal Tidy Village committee, to unveil the commemorative stone, to honor Willie's devotion to the village. In the course of the stone blessing by Fr. Joseph Fleming, members of the 1798 bicentenary stood guard of honour, to the sound of the bag pipes by Eugene Murphy. Dan Murphy, paid tribute to his friend, quoting a poem "My Native Land", by Walter Scott, which Willie had often used. Dan believed, Willies greatest talent was "to inspire others to believe, that this community was worth investing time and money" and is "grateful on behalf of all who knew him, to those who took the trouble to mark this place where Willie was born and congratulate them for their efforts". Frank White, (son), also paid tribute to his father, describing Willie's life from a young age and for his love of Clonegal, "his dream was for Clonegal to win the National Tidy Town's". Thanks were expressed to the Tidy Village Committee, Phil Rooney, and all those involved in the celebrations. The family invited those present for refreshments in St. Brigid's Community Hall.
Nicola Gray
To view some photographs of the event please click here
---
Defibrillator
KildavinClonegal GAA club premises has been the location for a defibrillator, purchased by the Community of Kildavin some time ago. The club is privileged for the opportunity to support the community by housing the defibrillator and funding its maintenance. Unfortunately it has been called into use a few times and as a consequence of this a number of people have asked that consideration be given to providing an outdoor location for it, eliminating the need to get access to the building at a time when it is not in use. As the club is merely a facilitator in the provision of a community defibrillator, it feels it can only make a decision on this proposal after consulting with the community who purchased the defibrillator. If any one wishes to contact the club with a proposal, suggestion or comment in relation to this situation, please
email:
secretary.kildavinclonegal.carlowgaa.ie
or phone or text Mgt @ 087 8380018
---
Stay in shape, Join that Gym
Sumer is coming to an end, kids are back to school and the evenings are drawing in. Christmas is not far away now. Keep in shape. Join Kildavin Clonegal GAA Gym Membership only €20 per month for an individual, €30 per month for a household. Minimum period of membership only one month. Cash payments are accepted. There are discounts for longer periods of membership or for groups. Facilities are open 8am to 10pm seven days per week. The indoor sports hall is available for rent for €30 per hour. Demand during the winter months is high and advanced booking is necessary. Please contact the club if you or your group feel any of our facilities may be of value to you. Phone Luke @ 0876430352
---

Weavers' Cottages Museum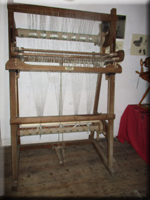 Come and visit the Weavers' Cottages Museum which were once the home of local weavers dating back to the 17th century
and now houses many artefacts of the cottage weaving industry. See our newly restrung loom (photo left)
Current opening hours:
Monday to Friday 9.00am - 4.00pm
Saturday & Sunday 12.00pm - 4.00pm
Visit the Weavers' Cottages website please click here
---

House of Song and Story

The House of Song and Story takes place every 3rd Monday of the month in St. Brigid's Hall, Clonegal at
8.00pm
.
The next session will be held on
Monday 18th September 2017.
All are most welcome.
---
'The Monday Club'
St Mary's Day Centre, Ryland Road
The September Programme - 10 am to 2pm
Come along-enjoy a social & informative gathering.

Monday 18th September: "Test your competitive side" with games such as Darts, Boules, Croquet, Horse shoe throwing and lots more.
Monday 25th September: "Modern Technology" continued......
Throughout the year we will have entertainment, information sharing, arts/crafts, guest speakers, bingo/card playing.
This Club would suit 60+ age group
Entrance Fee: €4 which includes Tea & Light Lunch.
---
Clonegal Kildavin Veteran Players Launches its 4th Book.
The 4th of November 2017 will see the launch of the Clonegal Kildavin Veteran Players fourth publication. Its title is
"For the honour of the Little Village"
and features the recollections and opinions of retired Gaelic Footballers and Hurlers from Carlow, Wexford and Wicklow. They treat the reader to their experiences of playing the game and of dealing with GAA officialdom. They offer their opinion on how the game and the organisation is evolving. The contributors mention up to 500 people whom they encountered during their playing careers. They have identified those they though were the club and county greats. There is no one in the South East who won't know some of the people mentioned. Leo McGough is writing the foreword. The Book will be launched by Jim Bolger Chairman of the Leinster Council in Mount Wolsely on
Saturday 4th November
this year at
8.00pm.
All are welcome, light refreshments will be served. The book will be on sale for €10 and all are welcome. Keep the date in your diary
---

Free Internet and Email Courses for Beginners

Free Internet and Email Courses for Beginners – on Computer, Smartphones or Tablets.
Courses currently being organised in various locations around the county, if you are interested in enrolling yourself or arranging some FREE training for a group
you are involved with, please contact Andrea Dalton in St Catherine's Community Services Centre on
059 9138706
or email
andread@catherines.ie
---
Carlow Autumn Walking Festival
Friday 6th October - Sunday 8th October 2017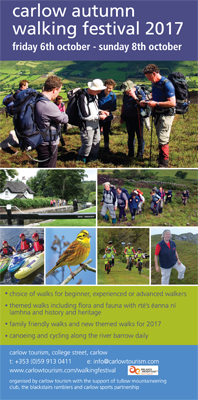 Choice of walks for beginner, experienced or advanced walker.
Themed walks including flora and fauna with RTÉ's Éanna Ní Lamhna and history and heritage
Family friendly walks and new themed walks for 2017
Canoeing and cycling along the River Barrow daily

To view/download the brochure please click here or on the image (8.5MB download)
---
Tullow Parish Holy Land Pilgrimage
Tullow Parish Holy Land Pilgrimage takes place from
Wednesday 11th October to Friday 20th October.
The cost is €1,549 per person sharing. Booking forms available from Tullow Parish Office 059 9151277 or MAP Travel at 01 8783111. Booking deposit - €250.
---
Bunclody Country Market
Bunclody Country Market opens every Saturday 10.00am - 1.00pm in St.Aidans Hall, Irish Street, Bunclody.
We will have a selection of home made tarts, buns, cakes, scones and breads along with a wide range of handmade crafts.
Tea/coffee and treats available for €3, so why not come along.
New members always welcome, for more information contact Grace on 087 654 6660
---

Do you want to dispose of unwanted Items?
If you want to dispose of unwanted items, you can do so free of charge on the following websites:
www.freetradeireland.ie
and
www.jumbletown.ie
Further details on our "Links" page.
Please click here
---
South Leinster Way Mapboard at Kildavin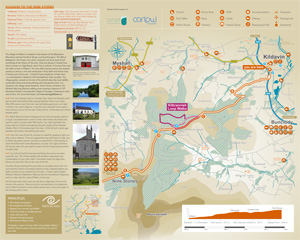 To view/download the map please click here or on the image (1.6MB download)
---
Bunclody Library Events for September 2017NB: Booking advisable for all events. Bunclody Library 053 9375466.
Wednesday 5th September - 30th September - Art Exhibition of paintings by Eliza Foley, her daughters and her late husband, John Edwin Foley.
Saturday 23rd September 2.30pm - Wexford Wildfowl Reserve Join us in Bunclody Library for a talk and presentation on Wexford Wildfowl Reserve. The Reserve is located on flat farmland on the North Slob which was walled off from Wexford Harbour and reclaimed from the sea in the 1840s partly as a famine relief project. Well worth a visit over the winter months, especially.
Thursday 28th September 7.00pm - Musical evening with local artists - Following on from our successful musical evening in July, Bunclody Library is hosting another evening of musical entertainment with local artists featuring traditional and other genres of music. Not to be missed
Regular Adult Events
Saturday 21st September 7.00pm - Adult Creative Writing The adult creative writing group 'Drop of Ink' returns after the summer break. New members are always welcome.
Regular Children's Events
Junior Reading Circle 'Bunclody Book Cave' Junior Reading Circle continues on Thursday 28th September at 4.00pm.
Toddler Story Time - Join us on Friday mornings at 11.00am. Come along with your toddler or preschooler for stories, rhymes and songs.
Bunclody Library branch is a wonderful – and free – resource for families.Check out what we are reading this week! Not to be missed.
Free Event. All Welcome.
Booking essential for all events. Tel: 053 9375466
For a full listing of events see Bunclody Library's Facebook page: https://www.facebook.com/BunclodyLibrary/events where you can sign up for our monthly what's on
e-newsletter. Also see our website: http://www.wexford.ie/wex/Departments/Library/WhatsOn/
---

St. Vincent de Paul Society, St. Teresa's Conference, Bunclody
St. Vincent de Paul Society Confidential Help Line - 087 3696883.
Please note: Recycling facilities for newspapers are in place at Supervalu Bunclody; by using this facility you are helping St. Vincent de Paul Society.


---
The Samaritans - Free Number to Call
The Samaritans have launched a new free to call number - 116 123 - for people who are struggling to cope. The number will make it possible for people to access the service round the clock, every single day of the year, free of charge.
The new free to call number has been made possible by a partnership between Samaritans and the telecommunications industry. The HSE National Office for Suicide Prevention is providing funding to support the Samaritans to build their capacity to roll out 116 123.
---
MABS
Carlow MABS Ltd
(Money Advice & Budgeting Service) 72d Tullow Street Carlow, Tel: 076 107 2070.
Free and confidential, Money Management and Advice Service. Assisting people in dealing with their existing debts and helping them to begin to manage their own resources.
MABS offers free Debt Relief Advice under Personal Insolvency options
Community Education Programmes
provided for Transition/Leaving Cert Students & Community Groups
Email:
carlow@mabs.ie
---
Masses for the coming week


Clonegal

Monday 18th Sept. at 9.30am
Wednesday 20th Sept. at 9.30am
Friday 22nd Sept. at 9.30am
Saturday 23rd Sept. at 6.30pm





Kildavin

Tuesday 19th Sept. at 9.30am
Thursday 21st Sept. at 9.30am
Sunday 24th Sept. at 11.30am


Readers
Clonegal
Saturday 23rd Sept. at 6.30pm
Ann Marie Whelan
Kildavin
Sunday 24th Sept. at 11.30am
Marie Nolan
Clonegalkildavin.ie
Don't forget that you can advertise any upcoming events on this website. Or you can tell us of stories or achievements in our local area.
Maybe you are planning a meeting or want to start a group or a class. Whatever is local is of interest to us. We are delighted to share your
achievements and plans with all. Send your infomation to: info@clonegalkildavin.ie
---
Clonegal/Kildavin Notes
Anyone who wishes to have, up-coming events, wedding occasions, birthday wishes or local news, to be issued on the local Clonegal/Kildavin Community Section of the Carlow Nationalist or Gorey Guardian can email clonegalkildavinnotes@gmail.com or phone Nicola Gray on 053 9376389
---