News for 14th August to 20th August 2017

If you have any news or upcoming events you would like included in this section please contact one of the addresses below:

Website: info@clonegalkildavin.ie
Secretary: secretary@clonegalkildavin.ie

Thank you

Clonegal Video
A video of Clonegal has been produced by Ellard Browne Limited directed by the late Hugh Browne and music is by Jason Culleton.



---


Masses for the coming week please click here



---
Lotto Results for 6th August 2017
Kildavin / Clonegal GAA, Ben Mulhall Park
Last Week's winning numbers:
13 - 20 - 21 - 22
Jackpot Result:
No winner
2 match 3 winners shared €150
Brendan Murphy c/o Rose Sheil 06 - 13 - 20 - 22
Pat Doyle, Monaughrim 10 - 13 - 21 - 22
Sellers Prize €50:
Jim Byrne Swift
Current Jackpot:
€8,200
Next draw will be held in the Osborne's, Clonegal,
Sunday 20th August 2017
at 10.30pm
Tickets €2.00 each.
---

House of Song and Story

The House of Song and Story takes place every 3rd Monday of the month in St. Brigid's Hall, Clonegal at
8.00pm
.
The next session will be held on
Monday 21st August 2017.
All are most welcome.
---
National Heritage Week at the Weavers' Cottages
Come and join us for National Heritage week at the Weavers' Cottages, Clonegal, for Craft demonstrations and guided tours
Monday 21st August
Wool Dyeing 2.00pm - 4.00pm
House of Song & Story at 8.00pm
Tuesday 22nd August
Hand weaving & Painting 2.00pm - 4.00pm
Friday 23rd August
The Art of Beekeeping 2.00pm - 4.00pm
Saturday 26th August
Embroidery with yarn & feltmaking 2.00pm - 4.00pm
Sunday 27th August
The Art of Lacemaking (Carrickmacross) 2.00pm - 4.00pm
Guided tours of our 17th Century museum and gardens
---
Diocesan Family Picnic Day
The Diocesan Family Picnic Day takes place in Punchestown Race Course on Sunday 27th August 1.00pm - 6.00pm. The official opening is at 3.00pm. Admission is free and please bring your own picnic. All are welcome.
---

Breda Murphy
Breda Murphy, (a member of Clonegal National School Parents Council) is pleased to advise that she has completed the London Marathon (April 23rd) and raised €1,250 for Clonegal National School. Many thanks for your wonderful contributions. A draw for €50 was also held and the winner was Gerry Darcy, Celbridge, Co. Kildare (a work colleague of Breda's) who has kindly donated his winnings back to the school. Many thanks to Gerry for this very kind act. Therefore, a total of raised €1,250, was handed over to the School on June 27th to support the Social, Personal and Health Development/Education Program (SPHE).
---

Relocation of Kildavin Bottle Banks
Following an investigation by the waste collection company responsible for the collection of our recycling facilities around the County, it was determined that the current location of the Bottle Banks at Kildavin were deemed unsafe under their Health & Safety regulations.
The Bottle Banks at Kildavin have been removed from their current location at Spellman Hall and are relocated to a new site at the GAA grounds.
Carlow County Council apologise for any inconvenience caused.
---

Weavers' Cottages Museum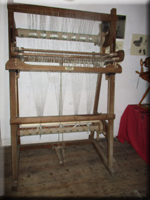 Come and visit the Weavers' Cottages Museum which were once the home of local weavers dating back to the 17th century and now houses many artefacts of the cottage weaving industry. See our newly restrung loom (photo left)
Current opening hours:
Monday to Friday 9.00am - 4.00pm
Saturday & Sunday 12.00pm - 4.00pm
Visit the Weavers' Cottages website please click here
---
' The Monday Club'
St.Marys Centre, Ryland Road, Bunclody.
Come and join us and brighten up your Monday mornings
The Monday Club
is closed for July & August
, reopening on
Monday 4th September
.
Entrance Fee: €4 which includes Tea/Coffee & Light Lunch
This Club will suit the 60+ age group. Transport not provided.
---

Free Internet and Email Courses for Beginners

Free Internet and Email Courses for Beginners – on Computer, Smartphones or Tablets.
Courses currently being organised in various locations around the county, if you are interested in enrolling yourself or arranging some FREE training for a group you are involved with, please contact Andrea Dalton in St Catherine's Community Services Centre on
059 9138706
or email
andread@catherines.ie
---
Youth 2000 Summer Festival
The Youth 2000 Summer Festival will take place in the Cistercian College Roscrea, Co. Tipperary from
Thursday 17th August to Sunday 20th August 2017
. The festival is for young people 16 - 35 years. It is an opportunity not to be missed to experience the Catholic faith and meet many new people, with over 1,400 young people from all over Ireland attending last year. The festival is donation only. Free buses travelling from all around Ireland. For more information and to book online log on to:
www.youth2000.ie
or telephone 01 6753690.
---

Pilgrimage to Medugorje
A Pilgrimage to Medugorje takes place
20th September 2017
for 7 nights. €709 fully inclusive. Departing from Dublin; Spiritual Director is Fr. Laurence O'Connor P.P. For further information please contact Ann Murphy at 087 2254206
---

Tullow Parish Holy Land Pilgrimage
Tullow Parish Holy Land Pilgrimage takes place from
Wednesday 11th October to Friday 20th October.
The cost is €1,549 per person sharing. Booking forms available from Tullow Parish Office 059 9151277 or MAP Travel at 01 8783111. Booking deposit - €250.
---
Bunclody Country Market
Bunclody Country Market opens every Saturday 10.00am - 1.00pm in St.Aidans Hall, Irish Street, Bunclody.
We will have a selection of home made tarts, buns, cakes, scones and breads along with a wide range of handmade crafts.
Tea/coffee and treats available for €3, so why not come along.
New members always welcome, for more information contact Grace on 087 654 6660
---

Do you want to dispose of unwanted Items?
If you want to dispose of unwanted items, you can do so free of charge on the following websites:
www.freetradeireland.ie
and
www.jumbletown.ie
Further details on our "Links" page.
Please click here
---
South Leinster Way Mapboard at Kildavin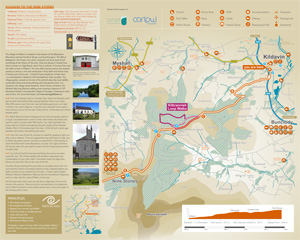 To view/download the map please click here or on the image (1.6MB download)
---
Bunclody Library Events for August 2017

1st August – 4th September 'Images of Starlight' Photographic Exhibition by Irish amateur astronomers. Many of the photographs, some taken with standard DSLR cameras, are millions of light years away!
NB: Booking advisable for all events. Bunclody Library 053 9375466.
Chess with Mind Training for Children with Manuel Gardenes and Coding for Children with Tekcentral continue at the library during the summer months. Due to popular interest the classes are fully subscribed.

Thursday 17th Auguust 7.00pm 'It's not what you think!' Join Mark Ralph for an enlightening talk on mindfulness in everyday life.
Saturday 19th August 2.30pm Movie for Adults – contact the library for details.
Thursday 24th August 7.00pm 'A Tale of the Whale' with Jim Hurley – hear all about a whale stranded in Rosslare in 1891, the skeleton of which will be on display in the London National History Museum from the summer of 2017!
Regular Adult Events
Computer Classes Bunclody Library has just finished the current classes for beginners in association with CTEC Wexford. If you wish to be considered for future classes, please contact Bunclody Library as soon as possible.
Adult Reading Circle The adult reading circle will take a break for July and August and return in September. New members are always welcome.
Adult Creative Writing The adult creative writing group 'Drop of Ink' will take a break for July and August and return in September. New members are always welcome..
Adult Poetry Group The Poetry Group will take a break for July and August and return in September. New members are always welcome..
Booking essential for all events. Tel: 053 9375466
Regular Children's Events.
RegularToddler Story Time - Join us on Friday mornings at 11.00am. Come along with your toddler or preschooler for stories, rhymes and songs.
Bunclody Library branch is a wonderful – and free – resource for families.Check out what we are reading this week! Not to be missed.
Free Event. All Welcome.
Booking essential for all events. Tel: 053 9375466
For a full listing of events see Bunclody Library's Facebook page: https://www.facebook.com/BunclodyLibrary/events where you can sign up for our monthly what's on
e-newsletter. Also see our website: http://www.wexford.ie/wex/Departments/Library/WhatsOn/
---
St. Vincent de Paul Society, St. Teresa's Conference, Bunclody
St. Vincent de Paul Society Confidential Help Line - 087 3696883.
Please note: Recycling facilities for newspapers are in place at Supervalu Bunclody; by using this facility you are helping St. Vincent de Paul Society.


---
The Samaritans - Free Number to Call
The Samaritans
have launched a new free to call number -
116 123
- for people who are struggling to cope. The number will make it possible for people to access the service round the clock, every single day of the year, free of charge.
The new free to call number has been made possible by a partnership between Samaritans and the telecommunications industry. The HSE National Office for Suicide Prevention is providing funding to support the Samaritans to build their capacity to roll out
116 123.
---
MABS
Carlow MABS Ltd
(Money Advice & Budgeting Service) 72d Tullow Street Carlow, Tel: 076 107 2070.
Free and confidential, Money Management and Advice Service. Assisting people in dealing with their existing debts and helping them to begin to manage their own resources.
MABS offers free Debt Relief Advice under Personal Insolvency options
Community Education Programmes
provided for Transition/Leaving Cert Students & Community Groups
Email:
carlow@mabs.ie
---
Masses for the coming week


Clonegal

Monday 14th Aug. at 6.30pm
Wednesday 16th Aug. at 9.30am
Friday 18th Aug. at 9.30am
Saturday 19th Aug. at 6.30pm

Eve of Holyday


Daniel Byrne, Moylisha

Kildavin

Tuesday 15th Aug. at 11.30am
Thursday 17th Aug. at 9.30am
Sunday 20th Aug. at 11.30am

Holyday

Months Mind: Thomas Slye, Mary Slye, Ballyshancarragh
Annie Reamsbottom, Ballykeenan.

Readers
Clonegal
Saturday 19th Aug. at 6.30pm
Ann Marie Whelan
Kildavin
Sunday 20th Aug. at 11.30am
Marie Nolan






Clonegalkildavin.ie
Don't forget that you can advertise any upcoming events on this website. Or you can tell us of stories or achievements in our local area. Maybe you are planning a meeting or want to start a group or a class. Whatever is local is of interest to us. We are delighted to share your achievements and plans with all. Send your infomation to: info@clonegalkildavin.ie
---
Clonegal Kildavin Notes
Anyone who wishes to have, Wedding occasions, Birthday wishes, Local News or Up Coming Events to be put on the local Clonegal/Kildavin Community Section of the Carlow Nationalist, The Enniscorthy Echo or Carlow People can email clonegalkildavinnotes@gmail.com or phone Nicola on 053 9376119.