Lotto Results 16th February 2020
Kildavin / Clonegal GAA, Ben Mulhall Park
Last Week's winning numbers: 02 - 07 - 09 - 19
Jackpot Result:
No winner / No online winner
5 Match 3 Winners each recieve €30
Johnny Tobin c/o Joe Mernagh 02 - 07 - 19 - 28
Thomas Joyce, Corries 02 - 09 - 19 - 24
Eileen Kelly, Kilcruit 02 - 07 - 09 - 14
Lotto Women 07 - 09 - 19 - 27
Yvonne Kidd c/o P. Murphy 07 - 09 - 19 - 27
Sellers Prize: €50 - Damien Treacy
Jackpot: €10,000 - Reserve Jackpot €5,000
Next draw will be held in Conway's Kildavin on 1st March 2020 at 10.30pm
Tickets €2.00 each.
Play Lotto Online
Click on the button below to play the Lotto Online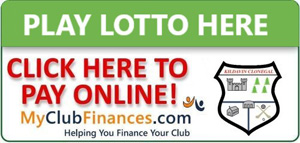 ---
Do you want to Re-home Unwanted Items?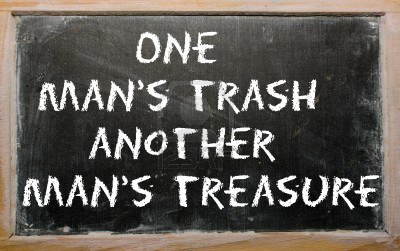 Clonegal / Kildavin Community Website has set up a Facebook page to facilitate people to recycle and re-home items they no longer have need of. All items published on this page must be free as the page is not a selling platform. It is a Facebook public group page and to participate you must join the group.

To view the page please click / tap here
---
Afternoon Tea - Roaring Success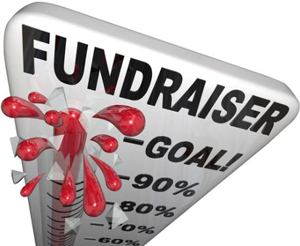 The Afternoon Tea in St. Bridget Hall on Saturday 25th January was a roaring success. The organisers would like to thank everyone for volunteering, donating and supporting this wonderful cause. It was fantastic to see so much community support. The amount raised was €5,331 and it is gone to the Carlow Kilkenny Homecare Team.
---
Kildavin/Clonegal Ladies Gaelic Football Club
Indoor pella has resumed for girls age 10+ Sundays from 7.00pm - 8.00pm. (Training for younger girls ages 7 - 9 will take place on Sundays from 6.00pm - 7.00pm, start date TBC).
New and existing players all welcome. For the first time this year we will cater for girls up to the age of 17. Please come along and try it out, its a beautiful sport and so much fun.
---
Gaelic 4 Mothers
Gaelic 4 Mothers and others started Monday 3rd February from 8.15pm - 9.15pm in Spellman Park, Kildavin (indoors). Cost €12. Contact Sarah Kirwan for more details 087 282 3110.
---
Kildavin / Clonegal Drama Group
Kildavin / Clonegal Drama Group will stage their production of "Mother Knows Best" by Jimmy Keary on
Saturday 22nd February
at 8.00pm
in Spellman Hall Kildavin. All funds will go to the Clonegal / Kildavin Senior Citizens Christmas Party. Members of the Senior Citizens Committee will be out during the week selling tickets. Please support this worthy cause. There will be another performance on
Sunday 23rd February at 8.00pm
. A great night of entertainment and laughter is guaranteed.
---


The delicate white and green blooms of the snowdrop peeping through the cold winter ground heralds the start of the gardening year. Their arrival is celebrated throughout some of County Carlow's fantastic gardens by a dedicated series of events during February.

Altamont Gardens | Tullow | Co. Carlow
Mount Wolseley Hotel | Tullow | Co. Carlow
Huntington Castle & Gardens | Clonegal | Co. Carlow
Burtown House & Gardens | Athy | Co. Kildare
Shankill Castle & Gardens | Paulstown | Co. Kilkenny
To view / download the flyer please click / tap here or on the image
---
St. Willibrord Echternach Pilgrimage 31st May to 4th June 2020
Spiritual Directors Bishop Denis Nulty and Bishop Michael Burrows. Participate in the UNESCO recognized "Hopping Procession" in honour of St. Willibrord (reliquary in Carlow Cathedral), trip includes 3 nights B&B in Luxembourg, 1 night B&B in Utrecht, city tour of Cologne to include Cologne Cathedral. Cost €745pps. The Hopping Procession is a great experience in the beautiful town of Echternach. Our group will once again be led in the procession by the Presentation School Band from Carlow. Book with Tullys Travel Carlow 059 913 6100.
---
Ben Mulhall Savings Club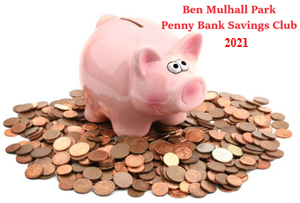 The Ben Mulhall Savings Club takes place every Friday, in Johnny Dunne's bar, Clonegal, from 6.45pm - 7.45pm. New members welcome.
---

Kildavin National School
Enrolment forms for Kildavin National School for
2020/2021
are available now in the school office. Call in or phone us on 053 937 6456
---
Clonegal National School
Enrolment forms for Clonegal National School for
2020/2021
are available now in the school office. Call in or phone us on 053 937 7513. The4 enrolment form can be downloaded from the website
www.clonegalns.com/Parents/enrolment.html
---
Clonegal Retains Gold in Tidy Towns 2019
The results of SuperValu Tidy Towns Competition were announced in the Helix Theatre, DCU, on Monday 30th September 2019 by Minister Michael Ring TD, Minister for Rural and Community Development and Mr Michael Kelleher, Managing Director of SuperValu. Congratulations to Clonegal on retaining the Gold Award for the 10th successive year also, for the County Award which is the highest marks in County Carlow. Clonegal Tidy Village Association thanks the entire community, all the volunteers, businesses and the national school for all the support during the season which kept the village in pristine condition. Without this support these awards would not have been achieved.
To view / download the Clonegal adjudicator's report 2019 please click/tap here

Kildavin increases points in Tidy Towns Competition
Congratulations to Kildavin for the increase in points in the Tidy Towns Competition. An increase in points was achieved in the following categories: Community/Planning; Streetscape and Public Places; Sustainability and Approach Roads. The adjudicator's report was a very positive one and can be viewed / downloaded below. Kildavin Development Committee thanks the community, all the volunteers and the national school for their support throughout the season. Your support and help is very much appreciated.
To view / download the Kildavin adjudicator's report 2019 please click/tap here
---

Carlow Pride of Place 2019
At the 20th anniversary of Carlow Pride of Place which was held in the Woodford Dolmen Hotel in Carlow on Wednesday 6th November 2019, Clonegal won 2nd prize in the
"Towns and Villages Category"
(population 250 - 750). The
"Butt Out"
award was given to Clonegal in recognition of the absence of cigarette butts in the village. John Dunne received the
"Individual Award"
which recognises the work and service to the community over several decades.
Kildavin was awarded
"Best Side Out"
which recognises the cleanest approach roads.
---
Board of Management - Kildavin National School
The Board of Management of Kildavin National School appeals to the local community not to let their dogs and cats on to the school grounds. We continue to have a problem with dog fouling and cat littering which impacts on the health and safety of the children in our care. Many thanks.
---
' The Monday Club'
St Mary's Day Centre, Ryland Road, Bunclody.
Come and join us and brighten up your Monday mornings 10.00 am to 2.00pm


New Members Always Welcome Throughout the year we will have information sharing, entertainment, Arts & Crafts, guest speakers and many more topics.
This Club would suit 60+ age group
Entrance Fee: €4 which includes Tea & Light Lunch.
---

Oberammergau 2020
Fr. Liam Morgan of Naas parish is leading a group to attend the Passion Play in Oberammergau from
7th August to 14th August
. The total cost is €1750 per person sharing a twin room which includes return flights from Dublin to Munich, private transfers, walking tour of Salzburg, 5 nights stay in Kitzbuhel - half board; 2 nights stay in Oberammergau - half board and category 1 tickets for the Passion Play on
13th August.
There are a few places available. If interested contact Tully's Travel, Carlow 059 913 6100
---

Ben Mulhall Park Table Quiz a Huge Success
The Ben Mulhall Park Committee would like to express their gratitude to all who supported the "Bingo Night", held in Osborne's Lounge, Clonegal on Friday 15th November. The total amount raised was €720. The money raised will go towards purchasing tables for the upstairs sports complex. Thank you to the winners for donating back their prize money. Thank you to our sponsors for prize money and raffle prizes: Jean, John, Paul and Sarah Kelly, Patsy and Bridge Kirwan and Dorcas Rothwell. Thank you to the Osborne family for their premises and Ned Byrne for the equipment. A special thank you to Bippy, Bridge, Kitsy and Mary Murphy for all their hard work, preparing for this event. The night was enjoyed by all.
---

You are not Alone Support Group
Drugs and alcohol addiction know no boundaries. You are not alone, help is always available. Please contact You are not Alone Support Group on 085 7872730 for a confidential and non judgemental service.
---
Bunclody Library Events
Thursday 20th February at 7.00pm – From Seed to Table. Growing your own vegetables with Frank Jesper.
Join garden and woodland specialist, and former head kitchen gardener Frank Jesper, for a practical session on growing your own vegetables. Booking essential.
Thursday 27th February at 7.00pm – The mapping section (GIS) of Wexford County Council will be demonstrating some of our mapping applications. If you are interested in Maps and Data don't miss this free event. Booking essential.
Saturday 29th February – Library Open Day

Leaving Cert Film Screening at 2.30pm - Bunclody Library will show a film screening of one of the prescribed films for Leaving Cert 2020. For further details please contact the library.
Regular Events in Bunclody Library

Bunclody Knitting Club - Wednesday mornings at 10.30 am, places limited, booking essential.
Online e-resources drop in clinic Why not drop by with your smart phone, tablet or laptop and avail of our free clinic in how to use our online services which include ebooks, digital magazines, e-audiobooks and much more. Every second Tuesday at 11.00am.

Regular Children's Events:

Toddler/Preschool Story Time - Stories, songs, rhymes and art and craft for under 5s. Join us for a lively morning of fun and chat. All welcome.
Friday mornings at 11.00 am
If you would you like to receive a Text Message or Email Message about our upcoming events please contact us in Bunclody Library on 053-9375466 or bunclodylib@wexfordcoco.ie.
Bunclody Library branch is a wonderful – and free – resource for families. Check out what we are reading this week! Not to be missed.
Free Event. All Welcome.
Booking essential for all events. Tel: 053 9375466 For a full listing of events see Bunclody Library's Facebook page: https://www.facebook.com/BunclodyLibrary/events where you can sign up for our monthly what's on e-newsletter. Also see our website: http://www.wexford.ie/wex/Departments/Library/WhatsOn/
---
Call For Volunteers
Are you a tradesperson aged between 20 and 68 years. If so, The Ray of Sunshine Foundation is seeking your help. A group of volunteers will travel to Kenya in January 2020, to build classrooms in Mombasa. Duration of the stay is 11 days. The cost is €3000 which covers flights, accommodation, insurance and all the materials for the build. Visit
www.rayofsunshine.ie
or contact Olive on 087 699 4599 for more information
---
Accord Catholic Marriage Care Service
Catholic Marriage Care Service is currently recruiting volunteers to train as marriage preparation course facilitators. If you have appositive attitude towards marriage in the Catholic Church, if you have the enthusiasm to be part of the Accord team in supporting couples who are preparing for the Sacrament of Marriage Accord want to hear from you! Successful applicants will receive professional training and will be part of a team delivering marriage preparation courses locally. Contact Aisling on 01 505 3112 or by email to
info@accord.ie
Accord is seeking marriage preparation course facilitators. The closing date for applications is
15th May
. Contact details above.
---
Clonegal Bottle Bank is for Recycling not Dumping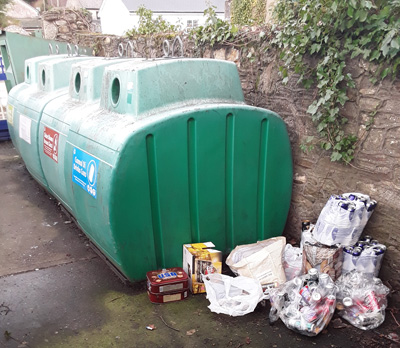 It is very disappointing that some people treat the bottle bank as a dumping area. Volunteers keep the bottle bank area neat and tidy and it is grossly unfair to dump in that area and expect volunteers to clean it up. Those who use the bottle bank are asked to bring their bottles/cans home with them if the bins are full and return when the bins have been emptied. Do not leave them on the ground. Clonegal Tidy Village Association will be installing CCTV which will monitor the area.


---
From Carlow Streams
There is a long and rich oral tradition of song and story in Carlow though much has been lost, which is why the creators and collaborators of Carlow Streams are passionate about preserving what we have, and ask for anyone with knowledge of local history and traditions contact them at
www.fromcarlowstreams.ie
or the Carlow Tourism website. Alternatively, contact Dave Barron at
daveb@fromcarlowstreams.ie
or 087 2204488.
The project was conceived by local man Dave Barron who has a deep interest in the Irish language and folklore and the importance of the Rambling House where culture was passed from one generation to the next.
Support for the initiative has come from Carlow Tourism, Creative Ireland Carlow, Carlow Museum and Carlow County Library, along with the families of Luke Morrissey, Willie White, Jim Nolan, Seamus Murphy and MC Nolan. To date, Dave has gathered material for the site from a disparate group of collectors around the county whose contributions are included in this cultural website. These include Danny Browne, Carlow Historical and Archaeological Society (CHAS), Tony Malone, Eddie McDonald, the late Luke Morrissey, the late Seamus Murphy, the late Willie White, John Candy, Dermot Mulligan, John Shortall, Seamus Dunne and Michael Rice. The list continues to grow.
---
Grow Is Here To Help You
Are you struggling with anxiety or depression? Finding life difficult? Isolated?
Our Mental Health Support groups are free and confidential and open to all, no referral or booking needed. Meeting times are:
Tuesday at l0.00am - Grow Office, Barrack Street Kilkenny
Tuesday at 1:45pm - Catherine's Social Services Centre, Joseph's Road, Carlow Town (Across-from the Train Station)
Wednesday at 8.00pm - Grow Office, Barrack Street, Kilkenny.
Friday at 10.30am - Grow Office, Barrack Street, Kilkenny.
(Ceart Grp: mental health effects of living with chronic pain/long term illness. Charity No. 20023294
Email: kateslater@grow.ie
GROW (Ireland) info-line 1890 474 474,
GROW (Ireland) Web: https://grow.ie/
Facebook: https://www.facebook.com/GROWIreland
To Donate to GROW please visit https://grow.ie/donations/
To Volunteer for GROW visit https://grow.ie/get-involved/volunteer-form/
---

Kildavin Choir
If you sing or play a musical instrument we would be delighted if you join us. We meet on
Monday evenings at 7.30pm
in the Spellman Hall, Kildavin (rear entrance) to practice. If you need further information please contact Mary 086 8097521 or just come along any Monday evening.
---

Affordable Live-In Homecare
Affordable Live-In Homecare Provide live in carers for the elderly in your area. If you are looking for a live-in carer for your relative, please call Eileen or Tom today on 087 9916791. Our website is
www.alhomecare.ie
---
A Robot for Clonegal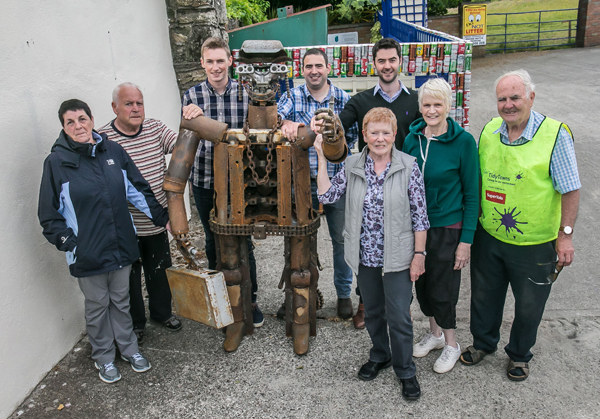 The picturesque village of Clonegal, Co. Carlow has a new resident - one who has a very distinct look. Its arms are conveyor rollers from a quarry; its feet are the bucket teeth from a digger. It has bolts for fingers and an engine for a stomach. Its eyebrows are wire brushes, its hair comprises motorbike chains and its cheery smile is thanks to the roller from a conveyor belt.
This smiling metal man, who carries a suitcase, is completely made from recycled scrap parts and was created by Liam Birmingham, a second-year mechanical engineering student from Institute of Technology Carlow. And on Wednesday 13th June Liam, alongside his engineering lecturers Dr. Anthony Nolan and Dr. Cathal Nolan, presented the smiling 'Tin Man' to the Clonegal Tidy Towns committee. He will reside in the square opposite the church in Clonegal village where his suitcase will store used batteries as part of Clonegal's ongoing efforts to "reduce, reuse and recycle".


Pictured above L to R: Marie Byrne, Tony Jackson, Liam Birmingham Carlow IT (creator of the robot), Dr. Anthony Nolan Carlow IT,
Dr. Cathal Nolan Carlow IT, Kay Jackson, Margo Corbally and Johnny Dunne.


To download the full Press Release please click here

To view a selection of photos please click here
---
Tricks & Tips
To prevent waste and conserve
natural resources please use thesehelpful tips in your home.

To view / download the brochure please click here or on the image

---
Parkrun Tullow
This FREE event continues every Saturday morning at 9:30 in Rathwood. Just register for free on
www.parkrun.ie
and print your barcode. You can run, jog, walk or stroll. Check out our facebook page for more information.
---

Kildavin Clonegal GAA
You can buy your Kildavin Clonegal Kidavin GAA Gift Vouchers now from the club. You can give your friends the gift of gym membership, club membership or room hire
---
"For The Honour of The Little Village"
Clonegal Kildavin Veteran Players book "For The Honour of The Little Village" is selling out fast. The books features the stories and opinions of twelve well known retired GAA Players from Carlow, Wexford and Wicklow with hundreds more mentioned, retailing at only €10 ideal for the GAA addicts among your friends and family.
---
Stay in shape, Join that Gym
Sumer is coming to an end, kids are back to school and the evenings are drawing in. Christmas is not far away now. Keep in shape. Join Kildavin Clonegal GAA Gym Membership only €20 per month for an individual, €30 per month for a household. Minimum period of membership only one month. Cash payments are accepted. There are discounts for longer periods of membership or for groups. Facilities are open 8am to 10pm seven days per week. The indoor sports hall is available for rent for €30 per hour. Demand during the winter months is high and advanced booking is necessary. Please contact the club if you or your group feel any of our facilities may be of value to you. Phone Luke @ 0876430352
---

Weavers' Cottages Museum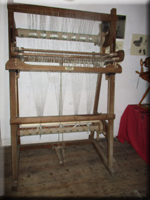 Come and visit the Weavers' Cottages Museum which were once the home of local weavers dating back to the 17th century and now houses many artefacts of the cottage weaving industry. See our newly restrung loom (photo left)

Opening Times:
Monday, Wednesday and Thursday 9.00am - 4.00pm
Tuesday 9.00am - 2.00pm - Friday: 9.00am - 1.00pm
Saturday & Sunday - Please phone 053 9376749

Visit the Weavers' Cottages website please click here



---
Bunclody Parent and Toddler Group
Bunclody Parent and Toddler Group takes place every Wednesday morning from 10.00am to 12 noon in St. Aidan's Hall, Irish Street. Admission €3.00. A place to meet other parents in a nice relaxed atmosphere.
---

Free Internet and Email Courses for Beginners

Free Internet and Email Courses for Beginners – on Computer, Smartphones or Tablets.
Courses currently being organised in various locations around the county, if you are interested in enrolling yourself or arranging some FREE training for a group you are involved with, please contact Andrea Dalton in St Catherine's Community Services Centre on
059 9138706
or email
andread@catherines.ie
---
Bunclody Country Market
Bunclody Country Market opens every Saturday 10.00am - 1.00pm in St.Aidans Hall, Irish Street, Bunclody.
We will have a selection of home made tarts, buns, cakes, scones and breads along with a wide range of handmade crafts. Tea/coffee and treats available for €3,so why not come along.
New members always welcome, for more information contact Grace on 087 654 6660
---
Do you want to dispose of unwanted Items?
If you want to dispose of unwanted items, you can do so free of charge on the following websites:
www.freetradeireland.ie
and
www.jumbletown.ie
Further details on our "Links" page.
Please click here
---
South Leinster Way Mapboard at Kildavin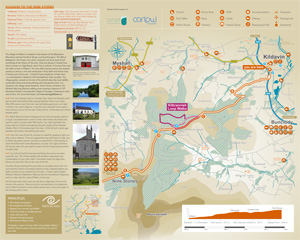 To view/download the map please click here or on the image (1.6MB download)
---

St. Vincent de Paul Society, St. Teresa's Conference, Bunclody
St. Vincent de Paul Society
Confidential Help Line - 087 3696883
.
Please note: Recycling facilities for newspapers are in place at Supervalu Bunclody; by using this facility you are helping St. Vincent de Paul Society.