Lotto Results for 12th May 2019
Kildavin / Clonegal GAA, Ben Mulhall Park
Last Week's winning numbers: 03 - 05 - 19 - 27
Jackpot Result: No winner / No online winner
7 Match 3 winners each receive €25
Nancy Brennan, Clonegal 03 - 05 - 16 - 27
Tom Roberts, Clonegal 03 - 11 - 19 - 27
Johnny Roberts Snr, Clonegal 03 - 05 - 17 - 19
Eileen Murphy, Monaughrim 03 - 05 - 08 - 19
Luke Hayden, Kildavin 03 - 11 - 19 - 27
Johnny Nolan, Kilmyshall 03 - 11 - 19 - 27
Sinead Gray, Clonegal 01 - 03 - 05 - 19
Sellers Prize €50: Nigel Moran
Jackpot: €9,200
Next draw will be held in Conway's, Kildavin on Sunday 26th May 2019 at 10.30pm
Tickets €2.00 each.
Play Lotto Online
Click on the button below to play the Lotto Online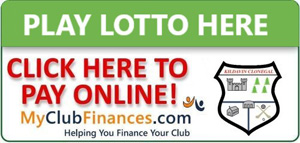 ---
Congratulations Isobel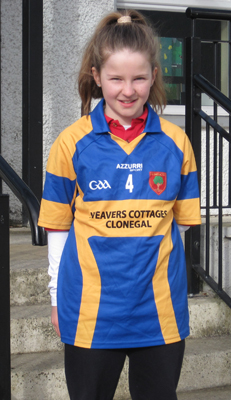 Congratulations to Isobel Cronin a student at Clonegal National School, who has been selected to represent Allianz Cumann na mBunscol Carlow in the Mini Seven's Football during half time in the All Ireland Championships games in August/September. The staff and pupils are very proud of Isobel's achievement and honoured that she will represent the school and county at such a prestigious event.

---
Clonegal and Kildavin N.S - "To Be Continued… 2019" Ben Markey's Story
This year's "To Be Continued…2019" is Ben Markey's story called "The Wash Away Goblins" Pupils were invited to write the ending (500 words max) for the story started by the late Ben Markey who tragically passed away in 2013. Congratulations to the young authors who had their stories published in the book: Clonegal N.S Abbie Gray, Salima Currey-Nurdin, Lia Dunne and Oisin Caulfield. The eighteen sixth class pupils worked on a collaborative ending and their collaborative work was published. Kildavin N.S. Niamh Cox, Stacey Binions and Sophie Byrne. The presentation of books took place in Our Lady of Lourdes N.S. on Wednesday, 10th April . All of the authors received three copies of the book.
| | |
| --- | --- |
| Authors from Clonegal National School | Authors from Kildavin National School |
---
Fundraiser in aid of Carlow Kilkenny Homecare Team
Two Day Rummage Sale of interest to all ages
Thursday May 16th & Friday May 17th, 2019 from10.00am-5.00pm
Men's and Ladies - Clothes, Handbags/Jewellery/Shoes/ Bric-a-Brac, Books, Toys, Etc.
at Unit beside Paul White's Pharmacy, Tullow Street, Carlow
Donations can be left into premises on Wednesday May 15th from 2-5pm
Info from: Kathleen at 085 7210235
---

Clonegal Tidy Village Association
A
Community Workday
will take place on
Saturday 18th May 2019 from 11.00am to 1.00pm
. Can you give some help during that time? Please meet at St. Brigid's Hall at 11.00am. It would be helpful to bring a sweeping brush, gardening tools, gloves and a high Vis vest. All are most welcome.
---

Ben Mulhall Memorial Park AGM
The Ben Mulhall Memorial Park will hold its AGM on
Thursday 23rd May 2019 from 8.00pm - 9.00pm
in the Ben Mulhall Park, Clonegal. All are welcome, new members also welcome.
---

Lough Derg One Day Retreats
Lough Derg One Day Retreats begin on Saturday 4th May and continue on 19th, 21st, 25th, 26th and 27th . Why not take some time and space on Lough Derg this May? A new event for those who serve in lay parish ministry, is our Parish Ministry Day Saturday 18th May. Booking essential. Tel (00353) (0) 71 986 1518. Email:
info@loughderg.org
Web:
www.loughderg.org
---
Carlow Choral Society - Summer Concert - Haydn & Mozart
Carlow Choral Society presents its Summer Concert in the Cathedral of the Assumption, Carlow, on Saturday May 18th at 8.00pm. The programme includes Haydn's dramatic Nelson Mass which is one of Haydn's finest works. The concert will also feature Haydn's dramatic 'Te Deum' and three of Mozart's most beautiful works, Lacrimosa from Requiem, Ave Verum and Laudate Dominum. Conducted by our Musical Director, Blanaid Murphy, with the Irish Choral Sinfonia Orchestra and organist Yvonne Collier and Soloists - Soprano: Aisling Kenny, Alto: Leanne Fitzgerald, Tenor: Jacek Wislocki and Bass: Eoghan Desmond. This promises to be an unforgettable and uplifting performance. Tickets are €20.00 and the concert is free for accompanied children. Tickets are available on www.eventbrite.ie and www.carlowchoralsociety.net and from choir members. For further information contact: Miriam Kelly, Secretary at 087 9422608 or carlowchoralsociety@gmail.com
---
Ballon Business & Training Service
Beginners Digital Photography
Wednesday 5th June & Thursday 6th June 7.00pm – 9.30pm
Cost €60
Further information: 059 9159447 email:
info@bbts.ie
Beyond Beginners Digital Workshop
Wednesday 12th June & Thursday 13th June 7.00pm – 9.30pm
Cost €60
Further information: 059 9159447 email:
info@bbts.ie
---
Call For Volunteers
Are you a tradesperson aged between 20 and 68 years. If so, The Ray of Sunshine Foundation is seeking your help. A group of volunteers will travel to Kenya in January 2020, to build classrooms in Mombasa. Duration of the stay is 11 days. The cost is €3000 which covers flights, accommodation, insurance and all the materials for the build. Visit www.rayofsunshine.ie or contact Olive on 087 69994599 for more information
---
Two Local Businesses Scoops Awards at Leinster Regional Finals
Congratulations to two local businesses, Sha-Roe Bistro, Clonegal on scooping two awards for "Best Restaurant" and "Best Chef" and to Osbornes Bar, Clonegal on receiving "Pub of the Year" award at this year's Leinster Regional Finals of the Food Awards. The Leinster Regional Final of Irish Restaurant Awards took place in the Killashee House Hotel on Thursday night, 6th March. Sha-Roe and Osbornes Bar along with thirteen other Carlow winners will compete for the Regional and All Ireland Titles, which will be announced at the Irish Restaurant Awards. These will be held in the Clayton Hotel, Dublin on Monday, 13th May 2019.
---
' The Monday Club'
St Mary's Day Centre, Ryland Road, Bunclody.
Come and join us and brighten up your Monday mornings 10.00 am to 2.00pm

New Members Always Welcome
Throughout the year we will have information sharing, entertainment, Arts & Crafts, guest speakers and many more topics.
This Club would suit 60+ age group
Entrance Fee: €4 which includes Tea & Light Lunch.
---
Diocesan Pilgrimage To Lourdes
The Annual Kildare & Leighlin Diocesan Pilgrimage To Lourdes will take place from the
1st to the 6th August 2019
. Direct flight from Dublin to Tarbes-Lourdes Airport and return. Return airport transfers with guide assistance. 5 Nights hotel accommodation. Daily breakfast, lunch and dinner. Full programme of religious ceremonies and special masses. Guided tours and social evenings. Full assistance of Joe Walsh Tours guides and representatives.
If you require assistance or intend on taking a wheelchair to Lourdes you must register your request by calling our office.
For additional information or to book over the phone, please call one of our Lourdes Pilgrimage Specialists: 01241 0800
Booking forms available in the Sacristy's in the Parishes of Myshall and Clonegal.
---
Accord Catholic Marriage Care Service
Catholic Marriage Care Service is currently recruiting volunteers to train as marriage preparation course facilitators. If you have appositive attitude towards marriage in the Catholic Church, if you have the enthusiasm to be part of the Accord team in supporting couples who are preparing for the Sacrament of Marriage Accord want to hear from you! Successful applicants will receive professional training and will be part of a team delivering marriage preparation courses locally. Contact Aisling on 01 505 3112 or by email to
info@accord.ie
---
Clonegal Bottle Bank is for Recycling not Dumping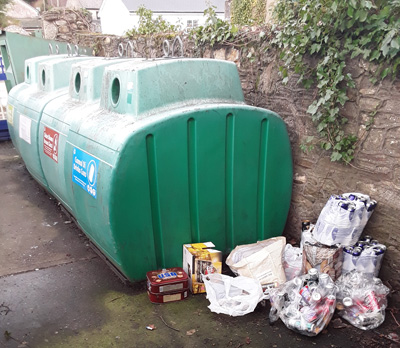 The photograph on the left was taken on 17th January 2019. It is very disappointing that some people treat the bottle bank as a dumping area. Volunteers keep the bottle bank area neat and tidy and it is grossly unfair to dump in that area and expect volunteers to clean it up. Those who use the bottle bank are asked to bring their bottles/cans home with them if the bins are full and return when the bins have been emptied. Do not leave them on the ground. Clonegal Tidy Village Association will be installing CCTV which will monitor the area.


---
Accommodation Required for the National Ploughing Championships: 17th - 19th September 2019
In September 2019 up to 280,000 people will visit Ballintrane, Fenagh, County Carlow for the National Ploughing Championships. While local hotels, self-catering premises and B&B's will cater for many visitors, there is a definite requirement for additional accommodation in the County Carlow area. If you have a house or room available to rent at reasonable rates and would like to support the National Ploughing Championships, please register your interest on:
www.carlowtourism.com/submityourproperty
Alternatively contact Carlow Tourism on 059-9130411 or info@carlowtourism.com for further details.
---
From Carlow Streams
There is a long and rich oral tradition of song and story in Carlow though much has been lost, which is why the creators and collaborators of Carlow Streams are passionate about preserving what we have, and ask for anyone with knowledge of local history and traditions contact them at
www.fromcarlowstreams.ie
or the Carlow Tourism website. Alternatively, contact Dave Barron at
daveb@fromcarlowstreams.ie
or 087 2204488.
The project was conceived by local man Dave Barron who has a deep interest in the Irish language and folklore and the importance of the Rambling House where culture was passed from one generation to the next.
Support for the initiative has come from Carlow Tourism, Creative Ireland Carlow, Carlow Museum and Carlow County Library, along with the families of Luke Morrissey, Willie White, Jim Nolan, Seamus Murphy and MC Nolan. To date, Dave has gathered material for the site from a disparate group of collectors around the county whose contributions are included in this cultural website. These include Danny Browne, Carlow Historical and Archaeological Society (CHAS), Tony Malone, Eddie McDonald, the late Luke Morrissey, the late Seamus Murphy, the late Willie White, John Candy, Dermot Mulligan, John Shortall, Seamus Dunne and Michael Rice. The list continues to grow.
---
Grow Is Here To Help You
Are you struggling with anxiety or depression? Finding life difficult? Isolated?
Our Mental Health Support groups are free and confidential and open to all, no referral or booking needed. Meeting times are:
Tuesday at l0.00am - Grow Office, Barrack Street Kilkenny
Tuesday at 1:45pm - Catherine's Social Services Centre, Joseph's Road, Carlow Town (Across-from the Train Station)
Wednesday at 8.00pm - Grow Office, Barrack Street, Kilkenny.
Friday at 10.30am - Grow Office, Barrack Street, Kilkenny.
(Ceart Grp: mental health effects of living with chronic pain/long term illness. Charity No. 20023294
Email: kateslater@grow.ie
GROW (Ireland) info-line 1890 474 474,
GROW (Ireland) Web: https://grow.ie/
Facebook: https://www.facebook.com/GROWIreland
To Donate to GROW please visit https://grow.ie/donations/
To Volunteer for GROW visit https://grow.ie/get-involved/volunteer-form/
---

Kildavin Choir
If you sing or play a musical instrument we would be delighted if you join us. We meet on
Monday evenings at 7.30pm
in the Spellman Hall, Kildavin (rear entrance) to practice. If you need further information please contact Mary 086 8097521 or just come along any Monday evening.
---

Affordable Live-In Homecare
Affordable Live-In Homecare Provide live in carers for the elderly in your area. If you are looking for a live-in carer for your relative, please call Eileen or Tom today on 087 9916791. Our website is
www.alhomecare.ie
---
A Robot for Clonegal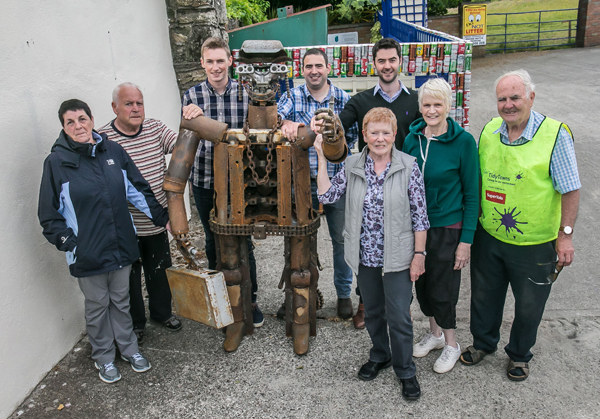 The picturesque village of Clonegal, Co. Carlow has a new resident - one who has a very distinct look. Its arms are conveyor rollers from a quarry; its feet are the bucket teeth from a digger. It has bolts for fingers and an engine for a stomach. Its eyebrows are wire brushes, its hair comprises motorbike chains and its cheery smile is thanks to the roller from a conveyor belt.
This smiling metal man, who carries a suitcase, is completely made from recycled scrap parts and was created by Liam Birmingham, a second-year mechanical engineering student from Institute of Technology Carlow. And on Wednesday 13th June Liam, alongside his engineering lecturers Dr. Anthony Nolan and Dr. Cathal Nolan, presented the smiling 'Tin Man' to the Clonegal Tidy Towns committee. He will reside in the square opposite the church in Clonegal village where his suitcase will store used batteries as part of Clonegal's ongoing efforts to "reduce, reuse and recycle".


Pictured above L to R: Marie Byrne, Tony Jackson, Liam Birmingham Carlow IT (creator of the robot), Dr. Anthony Nolan Carlow IT,
Dr. Cathal Nolan Carlow IT, Kay Jackson, Margo Corbally and Johnny Dunne.


To download the full Press Release please click here

To view a selection of photos please click here
---
Tricks & Tips
To prevent waste and conserve
natural resources please use thesehelpful tips in your home.

To view / download the brochure please click here or on the image

---
Parkrun Tullow
This FREE event continues every Saturday morning at 9:30 in Rathwood. Just register for free on
www.parkrun.ie
and print your barcode. You can run, jog, walk or stroll. Check out our facebook page for more information.
---

Kildavin Clonegal GAA
You can buy your Kildavin Clonegal Kidavin GAA Gift Vouchers now from the club. You can give your friends the gift of gym membership, club membership or room hire
---
"For The Honour of The Little Village"
Clonegal Kildavin Veteran Players book "For The Honour of The Little Village" is selling out fast. The books features the stories and opinions of twelve well known retired GAA Players from Carlow, Wexford and Wicklow with hundreds more mentioned, retailing at only €10 ideal for the GAA addicts among your friends and family.
---
Stay in shape, Join that Gym
Sumer is coming to an end, kids are back to school and the evenings are drawing in. Christmas is not far away now. Keep in shape. Join Kildavin Clonegal GAA Gym Membership only €20 per month for an individual, €30 per month for a household. Minimum period of membership only one month. Cash payments are accepted. There are discounts for longer periods of membership or for groups. Facilities are open 8am to 10pm seven days per week. The indoor sports hall is available for rent for €30 per hour. Demand during the winter months is high and advanced booking is necessary. Please contact the club if you or your group feel any of our facilities may be of value to you. Phone Luke @ 0876430352
---

Weavers' Cottages Museum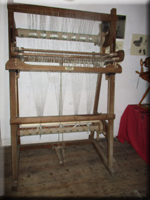 Come and visit the Weavers' Cottages Museum which were once the home of local weavers dating back to the 17th century and now houses many artefacts of the cottage weaving industry. See our newly restrung loom (photo left)

Opening Times:
Monday, Wednesday and Thursday 9.00am - 4.00pm
Tuesday 9.00am - 2.00pm - Friday: 9.00am - 1.00pm
Saturday & Sunday - Please phone 053 9376749

Visit the Weavers' Cottages website please click here



---
Bunclody Parent and Toddler Group
Bunclody Parent and Toddler Group takes place every Wednesday morning from 10.00am to 12 noon in St. Aidan's Hall, Irish Street. Admission €3.00. A place to meet other parents in a nice relaxed atmosphere.
---

Free Internet and Email Courses for Beginners

Free Internet and Email Courses for Beginners – on Computer, Smartphones or Tablets.
Courses currently being organised in various locations around the county, if you are interested in enrolling yourself or arranging some FREE training for a group you are involved with, please contact Andrea Dalton in St Catherine's Community Services Centre on
059 9138706
or email
andread@catherines.ie
---
Bunclody Country Market
Bunclody Country Market opens every Saturday 10.00am - 1.00pm in St.Aidans Hall, Irish Street, Bunclody.
We will have a selection of home made tarts, buns, cakes, scones and breads along with a wide range of handmade crafts. Tea/coffee and treats available for €3,so why not come along.
New members always welcome, for more information contact Grace on 087 654 6660
---
Do you want to dispose of unwanted Items?
If you want to dispose of unwanted items, you can do so free of charge on the following websites:
www.freetradeireland.ie
and
www.jumbletown.ie
Further details on our "Links" page.
Please click here
---
South Leinster Way Mapboard at Kildavin
To view/download the map please click here or on the image (1.6MB download)
---
Bunclody Library Events
for May 2019
NB: Booking advisable for all events. Bunclody Library 053 9375466.This month's exhibition is a changing exhibition representing the creative spontaneity of the Artists of ArtBank Bunclody in their creation of a continuing Festive Environment in the town. Well worth a visit!
Thursday 16th May at 7.00pm. An evening of Laughing Yoga with Mary Fitzpatrick, Sonny Holistic Therapy. Laughter Yoga (Hasyayoga) is a practice involving prolonged voluntary laughter. Heal Yourself with Laughter. Experience the Health Benefits of Joy and Happiness.
Saturday 18th May at 11.00am. Celtic T-shirt Crafts with Sarah. Join us for a special craft workshop with Sarah where you will design your own t-shirt with Celtic symbols. Suitable for 8-12 Year Olds.
Thursday 23rd May at 7.00pm. Digital Magazines demonstration. Discover hobby magazines on RB Digital, our free online services with over 270 high quality magazines for you to download to your device - Fashion, Automotive, Computers & Technology, Home & Garden, Food & Cooking, Sport, Current Affairs and much more!
Saturday 25th May at 11.00am. Family Movie Time In Bunclody Library. Join us for family movie time in Bunclody Library for a special showing of Where The Wild Things Are. Suitable for 7-12 Year Olds.
Thursday 30th May at 7.00pm. A Musical Evening with Local Artists. Following on from our previous successful musical evenings, Bunclody Library will host yet another evening packed with various styles of music from traditional to international. Music is provided by local artists. A great treat for all music lovers!
If you would you like to receive a Text Message or Email Message about our upcoming events please contact us in Bunclody Library on 053-9375466 or bunclodylib@wexfordcoco.ie.
Regular Adult Events
Bunclody Knitting Club Wednesday mornings at 10.30am. All Welcome Free Event.
Adult Reading Circle - Friday 10th May at 11.00am. New members are always welcome. Join us any time, just drop in !
Drop of Ink Writing group Saturday 11th May at 11.00am
Regular Children's Events:
Toddler Story Time Join us on Friday mornings at 11.00am. Come along with your toddler or preschooler for stories, rhymes and songs.
Junior Book Club Join Alan on Thursday 2nd May & Thursday 30th May at 4.00pm after school. All Welcome to Bunclody Bookcave.
Bunclody Library branch is a wonderful – and free – resource for families. Check out what we are reading this week! Not to be missed.
Free Event. All Welcome.
Booking essential for all events. Tel: 053 9375466
For a full listing of events see Bunclody Library's Facebook page: https://www.facebook.com/BunclodyLibrary/events where you can sign up for our monthly what's on e-newsletter. Also see our website: http://www.wexford.ie/wex/Departments/Library/WhatsOn/
---

St. Vincent de Paul Society, St. Teresa's Conference, Bunclody
St. Vincent de Paul Society Confidential Help Line - 087 3696883.
Please note: Recycling facilities for newspapers are in place at Supervalu Bunclody; by using this facility you are helping St. Vincent de Paul Society.


---
The Samaritans - Free Number to Call
The Samaritans have launched a new free to call number - 116 123 - for people who are struggling to cope. The number will make it possible for people to access the service round the clock, every single day of the year, free of charge.
The new free to call number has been made possible by a partnership between Samaritans and the telecommunications industry. The HSE National Office for Suicide Prevention is providing funding to support the Samaritans to build their capacity to roll out 116 123.
---
MABS
Carlow MABS Ltd
(Money Advice & Budgeting Service) 72d Tullow Street Carlow, Tel: 076 107 2070.
Free and confidential, Money Management and Advice Service. Assisting people in dealing with their existing debts and helping them to begin to manage their own resources.
MABS offers free Debt Relief Advice under Personal Insolvency options
Community Education Programmes
provided for Transition/Leaving Cert Students & Community Groups
Email:
carlow@mabs.ie
---
Masses for the coming week


Clonegal

Wednesday 15th May at 9.30am
Friday 17th May at 9.30am
Saturday 18th May at 6.30pm



Month's Mind John Doyle, Monaughrim; Johnny Farrell, Kilcarry

Kildavin

Tuesday 14th May at 9.30am
Thursday 16th May at 9.30am
Sunday 19th May at 11.30am


Readers
Clonegal
Saturday 18th May at 6.30pm
Brigid Ryan
Kildavin
Sunday 19th May at 11.30am
Damien McDonald


Clonegalkildavin.ie
Don't forget that you can advertise any upcoming events on this website. Or you can tell us of stories or achievements in our local area.
Maybe you are planning a meeting or want to start a group or a class. Whatever is local is of interest to us. We are delighted to share your
achievements and plans with all. Send your infomation to: info@clonegalkildavin.ie
---
Clonegal/Kildavin Notes
Anyone who wishes to have, up-coming events, wedding occasions, birthday wishes or local news, to be issued on the local Clonegal/Kildavin Community Section of the Carlow Nationalist or Gorey Guardian can email clonegalkildavinnotes@gmail.com or phone Nicola Gray on 053 9376389
---