Sponsors

Thank you to the following sponsors for their support with this website:

Mount Leinster Region is a FAS sponsored Community Employment Scheme. We wish to acknowledge their support in the setting up of this website.

Ireland's National Training and Employment Authority
Website: http://www.fas.ie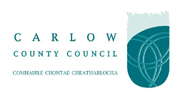 Carlow County Council
Head Office,
Carlow Local Authorities,
Athy Road,
Co. Carlow.
Website: http://www.carlow.ie

We are most grateful to the Clonegal Heritage Committee for the financial support with the hosting of this website.