A Robot for Clonegal

The picturesque village of Clonegal, Co. Carlow has a new resident - one who has a very distinct look. Its arms are conveyor rollers from a quarry; its feet are the bucket teeth from a digger. It has bolts for fingers and an engine for a stomach. Its eyebrows are wire brushes, its hair comprises motorbike chains and its cheery smile is thanks to the roller from a conveyor belt.
This smiling metal man, who carries a suitcase, is completely made from recycled scrap parts and was created by Liam Birmingham, a second-year mechanical engineering student from Institute of Technology Carlow. And on Wednesday 13th June Liam, alongside his engineering lecturers Dr. Anthony Nolan and Dr. Cathal Nolan, presented the smiling 'Tin Man' to the Clonegal Tidy Towns committee. He will reside in the square opposite the church in Clonegal village where his suitcase will store used batteries as part of Clonegal's ongoing efforts to "reduce, reuse and recycle".
To download the full Press Release please click here
| | |
| --- | --- |
| The Robot | Liam Birmingham, Carlow IT (Creator of the Robot) with Dr. Anthony Nolan, Carlow IT |
| | | |
| --- | --- | --- |
| Liam Birmingham with his two lecturers Dr. Cathal Nolan (L) and Dr. Anthony Nolan (R) and the Robot! | | Johnny Dunne (chairperson Clonegal Tidy Village) Liam Birmingham and Dr. Anthony Nolan |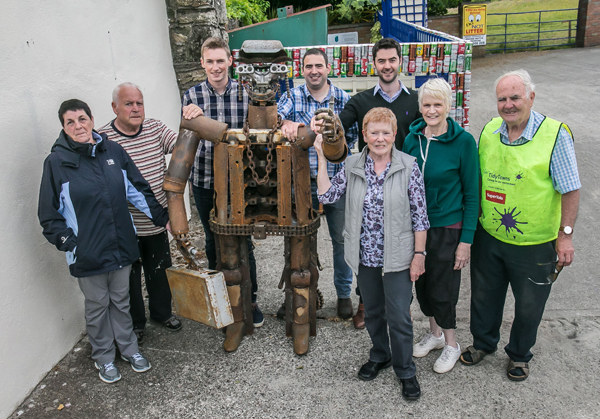 Pictured above L to R: Marie Byrne, Tony Jackson, Liam Birmingham Carlow IT (creator of the robot), Dr. Anthony Nolan Carlow IT,
Dr. Cathal Nolan Carlow IT, Kay Jackson, Margo Corbally and Johnny Dunne.