Spellman Hall, Kildavin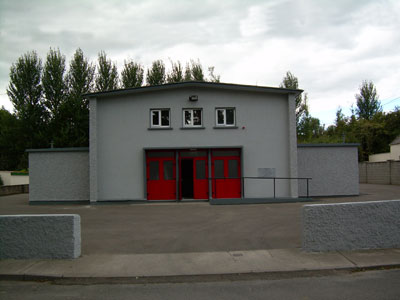 Spellman Hall is the heart of village life in the lovely village of Kildavin. It has served this community for decades and is known far and wide especially for the wonderful drama group and their annual productions. When the idea of a hall came to the fore initially it received a less than enthusiastic reception from the parish priest at the time. However as luck would have it the hall was finally built in Kildavin and we have never looked back. Before the hall existed the drama group used any empty spaces they could find, including the handball alley to present their productions.

It has often been commented on by visitors and locals alike how far thinking the designers and builders of this great building were. It is big and spacious and has a wonderful stage area. There are also meeting rooms and in the past a kitchen was added to the building expanding the services on offer. It has served generations of local families and has been a buzz of activity with youth groups, drama and many other events keeping the doors always open. The local primary school has availed of the facility for gym and class work and it has staged many local celebrations in the life of this community.
In recent years the Kildavin Country Market began its life here and also an indoor bowling club. These proved extremely popular and it is hoped to expand on these activities as time goes by. In 2010 Spellman Hall Committee received funding from Carlow County Development Partnership LTD / LEADER and a major refurbishment has taken place. It now boasts a whole new set of windows and doors, insulation from all sides, ceilings and walls, a new accessible toilet and a ramp into the main entrance. New fire doors have also been added as well as a storage area and an expanded meeting area which has been wired for computers and TV points. The whole hall was painted, inside and out and it is now home to Kildavin After-School facility. We hope that many more groups and activities will avail of this wonderful hall.
If you or your group would like to use this hall enquiries are always welcome. We are more than happy to accommodate various activities and would love to see Spellman Hall being used by the whole community.
Spellman Hall Kildavin was built and opened in 1956. The hall is named after Cardinal Francis Spellman of New York whose ancestral grandmother, Ellen Keogh hailed from this region. Cardinal Spellman is also remembered in our wonderful GAA grounds, Spellman Park. Through his generosity we have benefited and the success of both Spellman Hall and Spellman Park are a testament to this.

Bookings / enquiries - Seamus: 087 9645923